Housing & Hospitality
SDSU Mission Valley will include housing for both SDSU and the greater San Diego community in a vibrant university village setting, incorporating neighborhood-serving retail facilities on premises.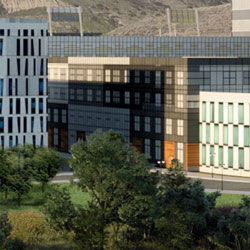 Housing
The residential area will consist of 18 buildings and approximately 4,600 residential units for students, faculty, staff, and the greater community.
Ten percent of housing units will be set aside as affordable housing on-site, providing workforce and publicly available housing within the university village setting.
Retail
The site will feature approximately 95,000 square feet of neighborhood-serving retail space within the residential and Innovation District buildings.
Hotel
A conference hotel will include up to 400 rooms and up to 40,000 square feet of conference space adjacent to the stadium to support visitors to SDSU Mission Valley and stadium-related events.
The hotel will also serve as a professional incubator for graduate and undergraduate students in SDSU's L. Robert Payne School of Hospitality and Tourism Management.